Supporting Cross-Border E-Commerce Sales of Japanese Traditional Crafts and Apparel
Many countries in Southeast Asia, including Malaysia, have witnessed a rapid expansion of the e-commerce market, where consumers make purchases online through EC sites and social media platforms. On the other hand, Japanese traditional crafts and similar products have had limited exposure online, with their historical background, traditions, and product values being relatively less showcased in the international market.
Hence, through this partnership, Takumi International aims to introduce the appeal of these Japanese products to the Southeast Asian market in languages such as English and Chinese and to expand into new markets through sales on EC sites. TK International will provide technical support for cross-border e-commerce and offer digital marketing strategies, supporting international success from a technical perspective.
Opening of an EC Site with Kimono as the First Step
As the inaugural step of this partnership, we are delighted to announce the launch of a new EC site with "kimono" as the central theme. This kimono-themed site offers a wide range of products, including hijabs made from Japanese kimono fabrics and fashion accessories, all produced in Japan. We aim to provide products that blend Japanese culture with Malaysian fashion trends.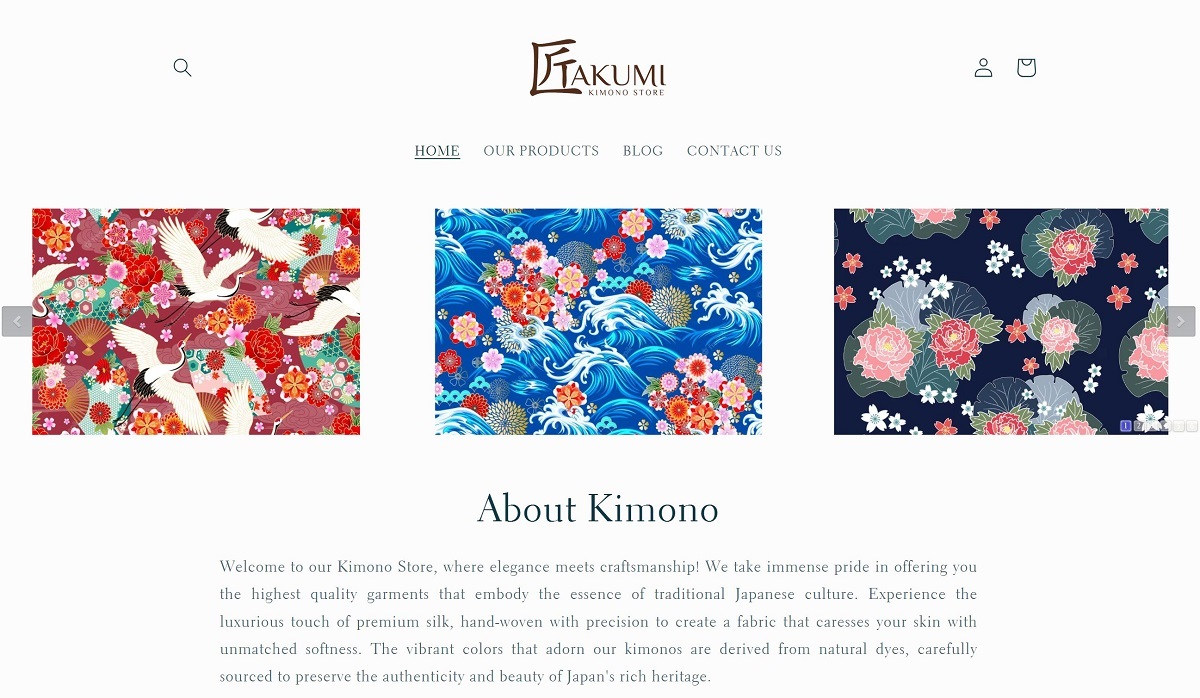 Access to the kimono site is as follows:Takumi International's Kimono Site https://kimono.com.my/
TK International, based in Kuala Lumpur, specializes in digital marketing services such as website development, SEO optimization, online advertising management, and e-commerce site creation. With over 50 successful multilingual website projects, TK International is well-equipped to leverage its experience and achievements to support Takumi International in its international market expansion efforts and assist in establishing an effective digital presence.
Being based in Malaysia, Takumi International benefits from its multicultural and diverse perspective to discover the appeal of Japanese products from a fresh angle. We are committed to bridging language and cultural gaps, helping convey the charm of Japanese products to Malaysia and the world at large.The partnership between TK International and Takumi International aims to introduce the value of Japanese traditional crafts and apparel to the people of Southeast Asia and strive for success in new markets.For detailed information and updates regarding this partnership, please visit our website or refer to our press releases.
■About TK International Sdn. Bhd.
Incorporated in 2014, TK International is an MSC-status Japanese IT consultancy and solution provider based in Malaysia. Together with our partners, we help our clients achieve digital transformation. Our focus areas are Internet of Things (IoT), Cloud Services, Digital Marketing and Business Process Outsourcing (BPO). For more information, please visit our website at https://tk-international.com/
Company name: TK International Sdn.Bhd. (1088406-U)
Registration Number: 201401012326 (1088406-U)
Founded: April 9, 2014
Address: B-8-02, Capital 2, Oasis Square, No. 2, Jalan PJU 1A / 7A,Oasis Damansara, 47301 Petaling Jaya, Selangor, Malaysia
Representative: Shingo Abe, Managing Director, and CEO
Web: https://tk-international.com/ja/
Media: https://connection.com.my/
Business content: Malaysia-based comprehensive IT service provider
- Business consulting
- Cloud service
- IoT solution
- Digital marketing
- Inside sales
■ About Takumi International Sdn Bhd
Takumi Corporation is a Malaysian-based retail company specializing in importing high-quality Japanese products and traditional crafts, with a mission to convey the excellence of Japan to Malaysia.
Registration Number:201801025323 (1287343-U)Company
Name:Takumi International Sdn. Bhd.
Founded:July 16, 2018Address:B-8-02, Capital 2, Oasis Square, No. 2, Jalan PJU 1A/7A,Oasis Damansara, 47301 Petaling Jaya, Selangor, Malaysia
Representative:Managing Director Wan Amirul Hakim
Web: https://www.takumi.com.my/
EC-Site: https://kimono.com.my/
Business Activities: Retail through E-commerce
- International Business Consulting
- Online Promotion Planning and Production
- E-commerce Utilization Consulting
- Online Store Development
- Online Exhibition Platforms
- Export Services