Kuala Lumpur, Malaysia – NeuXP Sdn. Bhd. ("NeuXP"), a provider of BuddzyConnect an immersive virtual experience business platform, is thrilled to announce a strategic collaboration with CrownAsia, the biggest e-commerce convention in Asia curated by Ads Venture Group. This partnership seeks to enhance the live sessions feature known as BuddyzLive on BuddyzConnect. The collaboration is geared towards providing subscribers with an enriched virtual booth experience, along with unparalleled opportunities for promoting and selling their products through engaging livestreams.

The collaboration between the parties underscores NeuXP commitment to providing innovative solutions that empower businesses, particularly small and medium-sized enterprises (SMEs), to thrive in the digital era. By merging BuddyzConnect cutting-edge virtual environment with CrownAsia expertise in influencer marketing and digital promotions, this collaboration creates a dynamic synergy that will redefine how businesses connect with their target audience.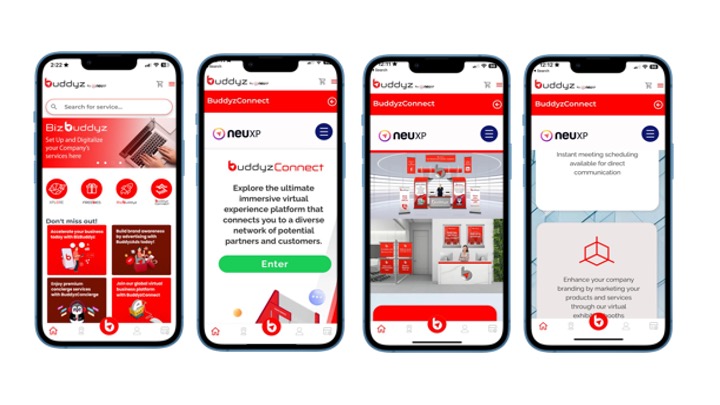 Key Benefits of the Collaboration:
Elevated Live Sessions: Subscribers of BuddyzConnect will experience enhanced live sessions, where they can showcase their products or services through virtual booths and engaging livestreams. This immersive approach offers a unique opportunity for businesses to connect with potential customers in real-time, fostering greater engagement and interaction.
Influencer Engagement: CrownAsia brings its extensive network of influencers to the collaboration, enabling businesses to tap into the power of influencer marketing. Influencers will collaborate with subscribers to promote their products during live sessions, expanding brand reach and driving sales.
Seamlessness and Convenience: The collaboration aims to seamlessly integrate influencer-led live sessions within BuddyzConnect, providing subscribers with a convenient platform to connect with influencers, promote their offerings, and connect with a wider audience.
"We are thrilled to partner with CrownAsia to bring this exciting collaboration to our subscribers," said Jeremy Mah, Founder & CEO of NeuXP "This collaboration aligns perfectly with our mission of empowering businesses through innovative solutions. By combining the immersive capabilities of BuddyzConnect with CrownAsia's expertise in influencer marketing, we are providing our subscribers with a powerful tool to effectively engage their audience and drive business growth."
This collaboration with CrownAsia marks another milestone for NeuXP, reinforcing its dedication to supporting businesses in adapting to the digital landscape and thriving in a competitive market. For more information on BuddyzConnect, go to https://www.buddyz.app/buddyzconnect