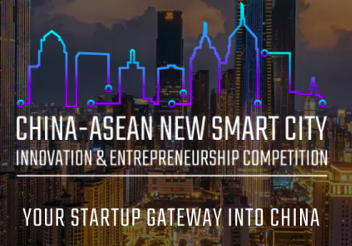 Kuala Lumpur, Malaysia – NeuXP Group, a provider of an integrated cross-border financial and lifestyle platform, is proud to announce its co-organizing role for Malaysia in the sixth annual CHINA-ASEAN New Smart City Innovation & Entrepreneurship Competition. This esteemed competition, initiated by the Nanning Municipal D&R Commission and co-organized by Nanning Municipal Big Data Bureau, Nanning Foreign Affairs Office, and CloudBae Big Data Industry Development Co. Ltd. ('CloudBae'), aims to foster innovation, connect startups, and propel the smart city ecosystem into the future.
With registration commencing from 1st November to 18th 2023, the competition invites startups and individuals, including university students from various sectors, to register and participate. The preliminary round for ASEAN will take place virtually from 27th November to 28th, with the grand finals set to be held in Nanning, China, in mid-January 2024.
This competition, which began in 2018 with a modest number of startup participants from countries such as Singapore, Vietnam, and Indonesia, has grown exponentially. Its fundamental idea is to enhance the synergy between smart cities and the digital economy through innovative technology. Today, the competition boasts nearly 400 startup ideas from 10 countries, spanning over 30 sub-sectors.
Startups or individuals in this event will be motivated by several key objectives, including gaining international pitching experience, securing funding from Chinese Venture Capitalists, and expanding their network within the Chinese market.
The competition offers two distinct categories: Startup (Pre-Seed Stage without an MVP) and Comprehensive (Seed Stage with POC, MVP, and traction), ensuring a level playing field for all innovative participants.
The competition unfolds through multiple stages, starting with the application stage, which is open to startups or individuals from the 12 specified sectors: Internet of Things (IoT), Artificial Intelligence (AI) and Machine Learning (ML), Urban Planning and Infrastructure, Energy and Utilities, Transport and Mobility, Waste Management, Public Safety and Security, Fintech, E-Governance, Education Technology (EdTech) and Agriculture and Sustainability. Subsequently, 16 teams from each category will be shortlisted, and the top six from each category in the preliminary round will compete in the grand finals. Winners of each category will receive prize money, and CloudBae may approach selected victors for an Acceleration Program in Nanning, China.
Beyond the competition, participants can look forward to various other benefits and opportunities, including CloudBae's Accelerator Program, free office usage in Nanning Free Trade Zone for 18 months, expert research assistance for the Chinese market, additional fundraising opportunities from a vast network of VCs in China, and curated networking events.
The judging criteria for the competition encompass innovation and creativity, marketing strategy, commercial value, public service, and return on investment analysis.
To join this exciting journey of innovation and entrepreneurship in the smart city ecosystem, interested parties can register for the competition by 18th November 2023 at Ticket2U.
For further inquiries, please email to support@neuxp.com