VRITIMES, a leading media technology startup, is thrilled to announce the launch of a groundbreaking new feature that will revolutionize the way press releases are created and distributed. The platform now supports the embedding of YouTube videos directly into the body of press releases, offering a richer, more engaging experience for both publishers and readers.
About the New Features
The new YouTube video embedding feature allows publishers to include video content seamlessly within their press releases. This multimedia approach not only enhances the quality of the press release but also increases its reach and impact.
"By integrating video content, we are providing our users with the tools to create more dynamic and impactful press releases," said Ferry Bayu, CEO of VRITIMES. "This feature is in line with our mission to facilitate a more valuable flow of information in Southeast Asia."
How It Works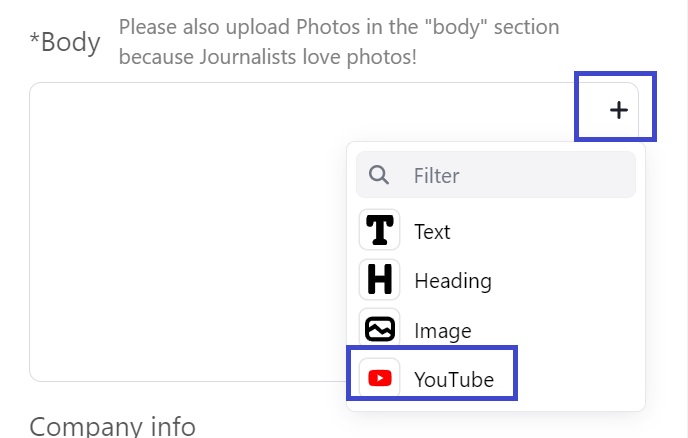 On the body please click "+" and choose "YouTube"
User-Friendly Interface: The feature is designed with user experience in mind, making it easy to embed videos.
Flexibility: Publishers have the freedom to position the video anywhere within the body of the press release.
Compatibility: The embedded videos are optimized for both desktop and mobile viewing.
About VRITIMES Inc.
VRITIMES (https://www.vritimes.com/ph/service) is a media technology startup company, established in Tokyo in August 2022. We specialize in press releases, functioning both as a media platform and a distributor to our media partners. Users can create and distribute press releases through VRITIMES, then use our analytics feature to review their results - all within one solution. By making it easy and affordable to distribute press releases, we aim to facilitate a more valuable flow of information in the world, serving as the infrastructure that ensures this information reaches the media and consumers.